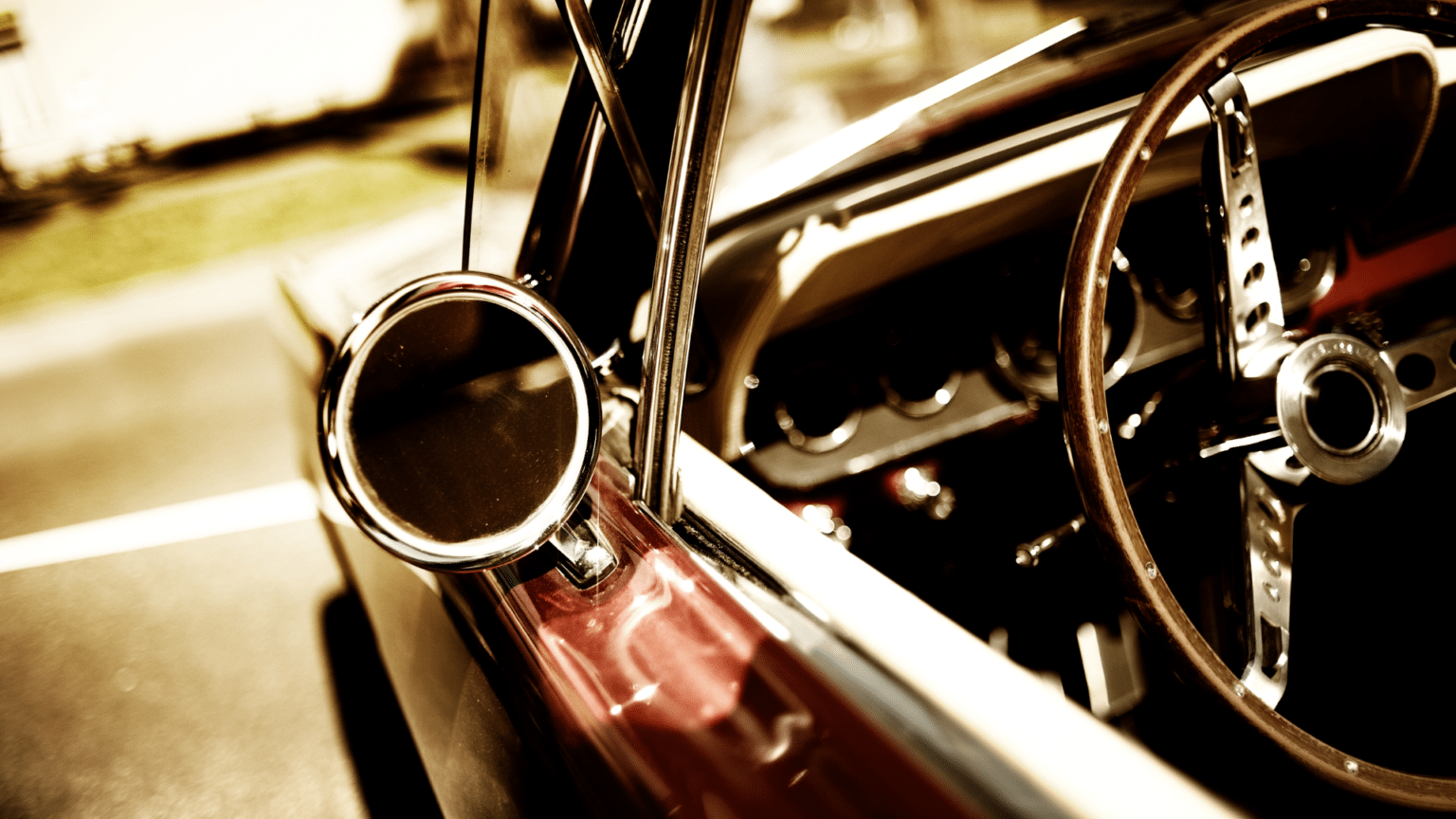 RestoMod 2301-01
$300 CAD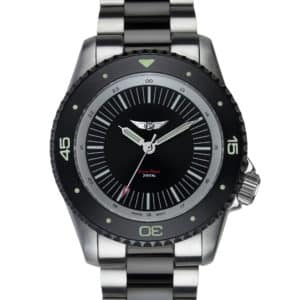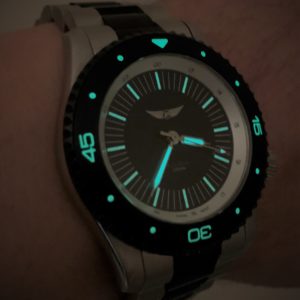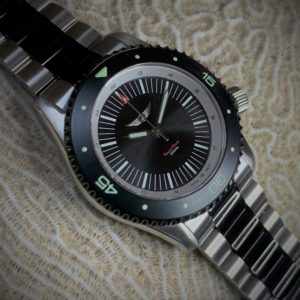 CASE SIZE: 42mm
MOVEMENT : SWISS QUARTZ
BEZEL: CERAMIC WITH SWISS LUME
CRYSTAL: SAPPHIRE CRYSTAL
WATER RESISTANCE: 200M / 650 FEET
DIAL: STARBURST BLACK FINISH WITH LUME MARKERS
WARRENTY: 1 YEAR MANUFACTURER WARRENTY
RestoMod Watch 2301-01: A Stunning Dive Timepiece
Discover the allure of the RestoMod Watch, a remarkable timepiece crafted with precision and style by Propeller Watch Co. As the inaugural design from this esteemed watchmaker, the RestoMod sets the stage for excellence, blending a striking silver and black motif into a harmonious masterpiece. Let's delve into the details of this remarkable dive watch that effortlessly combines elegance with durability.
Unparalleled Design and Craftsmanship
The RestoMod Watch showcases a starburst black dial, providing a captivating backdrop for its silver and black aesthetics. This innovative design concept sets it apart from traditional dive watches, making it a true standout piece for discerning watch enthusiasts. The meticulous attention to detail is evident in every aspect of its creation, from the dial to the bracelet.
Superior Water Resistance and Durability
Engineered to meet the demands of divers and water sports enthusiasts, the RestoMod Watch features an impressive water resistance of 200 meters (650 feet). This ensures that it remains fully functional even in the most challenging aquatic environments. The scratch-resistant sapphire crystal protects the dial, keeping it free from unsightly marks or damage caused by daily wear and tear.
Functionality Meets Precision
Powered by an exceptionally accurate Swiss movement mechanism, the RestoMod Watch guarantees precise timekeeping. You can rely on its reliability and accuracy, whether you're exploring the depths of the ocean or simply going about your daily activities. The military 24-hour marker on the chapter ring adds a touch of sophistication, while the unidirectional bezel features Swiss lume markers for enhanced visibility in low-light conditions.
Enhanced Legibility and Style
Designed for optimal readability, the RestoMod Watch features lumed dial markers at five-second intervals, ensuring effortless time-telling in any lighting situation. The lumed silver hands further enhance visibility, providing a striking contrast against the dial. This combination of functionality and style ensures that the RestoMod is not only a reliable timepiece but also a statement accessory that complements your personal style.
Exquisite Case Back Detailing
The case back of the RestoMod Watch is adorned with an etched car design, a tribute to the timeless appeal of classic automobiles. This intricate detailing adds a touch of nostalgia and serves as a conversation starter for those who appreciate automotive aesthetics. Additionally, it features Propeller markings and specifications, a testament to the watch's impeccable quality and craftsmanship.
Embrace Timeless Elegance with the RestoMod Watch
Experience the perfect fusion of style, functionality, and durability with the RestoMod Watch by Propeller Watch Co. Whether you're a dive enthusiast, a watch connoisseur, or simply someone who appreciates the finer things in life, this exceptional timepiece will exceed your expectations. Elevate your wrist game and make a statement with the RestoMod Watch, a testament to Propeller Watch Co.'s commitment to excellence and passion for innovative design.